Heartland Park Transmission Line Upgrade
Evergy is preparing to upgrade an aging power system built in the early 1940s that is nearing the end of its service life. In the 80 years since the existing power system was put into service, the power needs of south and east Topeka have changed drastically.
What to expect
The improvements will enhance reliability and strengthen the regional power grid, allowing us to serve homes and businesses well into the future.
We will rebuild 4.3 miles of existing 115 kV electrical transmission line connecting the Heartland substation, located at SW 77th Street and SW Topeka Boulevard, to near SE 81st and SE Croco Road
We will also build 1.9 miles of new 115 kV electrical transmission line between SE 81st Street and SE Croco Road and SE 89th Street and SE Paulen Road
This project is part of Evergy's long-range plan to upgrade the transmission grid in eastern Kansas and increase electric reliability in south and east Topeka, as well as northern Osage County.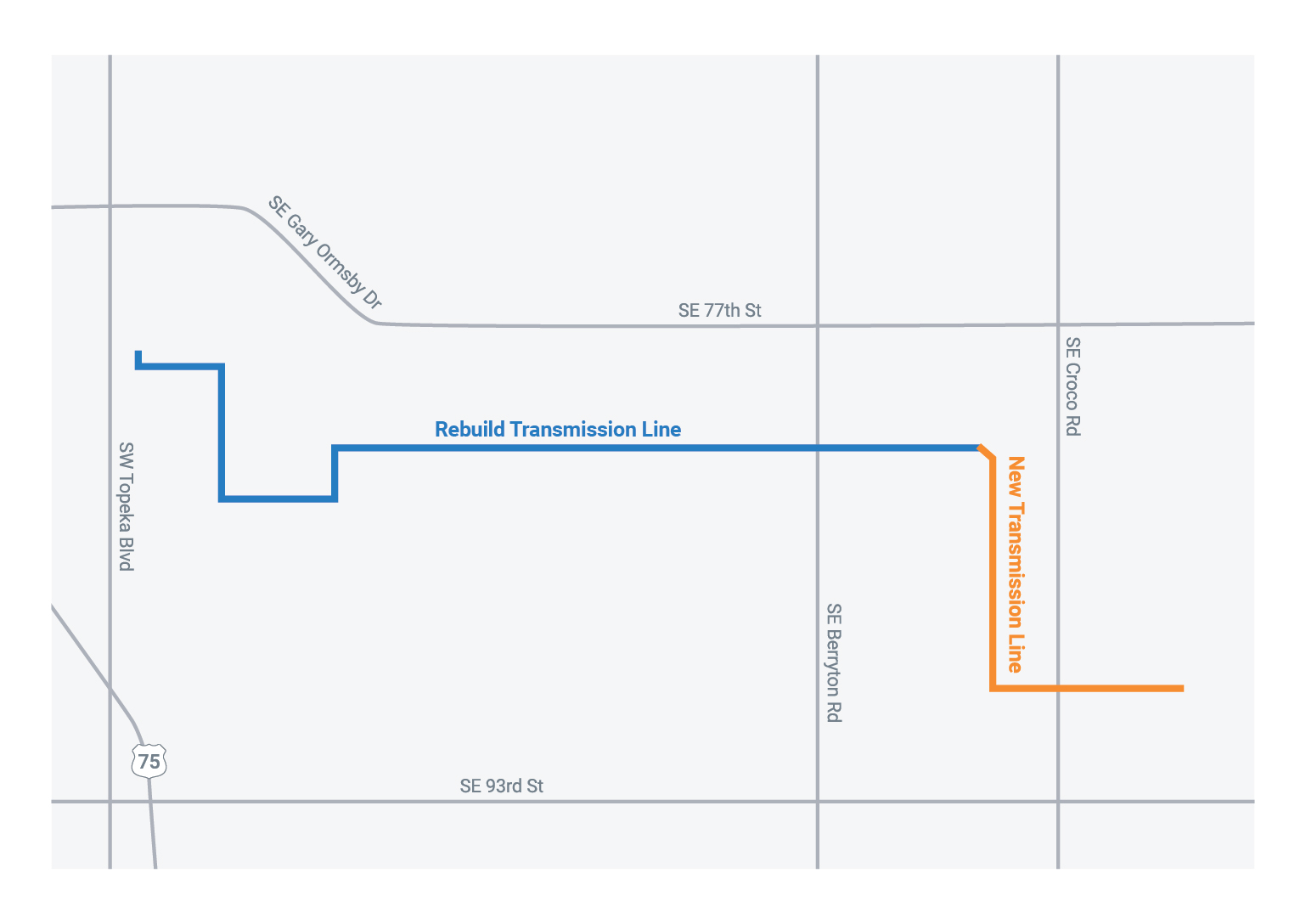 Timeline
Design
We will replace existing wood H-frame structures with new steel H-frame structures. Steel poles are utilized for reliability and resiliency with the harsh weather conditions our communities can face. The existing structures only carry one circuit of electricity, while the new structures will carry two circuits. The new structures will likely be about 30 to 40 feet taller than existing structures and will likely be about 600 to 850 feet apart.
Real Estate
We are committed to open, honest and frequent communications with landowners. We contacted landowners who have property on the transmission line route and purchased the easements necessary to build the line. We also discussed what to expect from our construction efforts and restoration practices. Our intent is to leave property in a state comparable to pre-construction.
Health and Environment
Evergy believes the environment is an important factor when planning and designing transmission line projects. We work closely with the appropriate organizations from the beginning of projects to make sure any direct environmental impact is appropriately identified and addressed.